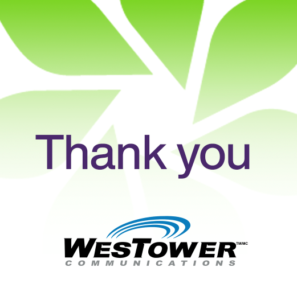 WesTower is delighted to announce a $10,000 donation to the TELUS Future Friendly Foundation in support of the vital work they do to support mental health and wellness for youth in local Canadian communities.
"We have a long partnership history with TELUS dating back to some of our earliest wireless tower installations," said Nathan Schauerte, President and CEO of WesTower Communications. "Their ongoing commitment through the Future Friendly Foundation to fund health, education and technology focused charitable programs for youth across Canada is one that deeply aligns with WesTower's goals to support mental health programs for youth, especially as our communities and our children continue to adapt and recover from pandemic challenges, and make bright connections for the future."
WesTower's donation will support the Move Forward for Youth Mental Health campaign, which is bringing together partners to make a difference in the lives of young people who need our help now more than ever. 2022 investments will be made in charities that have a local impact, as well as provincial or national organizations implementing innovative solutions that address the mental health and well-being of children and youth.
About the TELUS Future Friendly Foundation
TELUS Friendly Future Foundation is a Canadian registered charity that believes all youth, regardless of circumstance, deserve an equal opportunity to reach their full potential. That is why we're committed to helping connect youth to a world of opportunities. By funding over 500 local charities each year that provide education and health programs, many enabled by technology, TELUS Friendly Future Foundation is helping youth in communities across Canada succeed. Since TELUS covers the Foundation's operating costs, 100% of donations go directly to local charities. In 2021 alone, TELUS Friendly Future Foundation provided more than $8.7 million in grants to charities across the country.