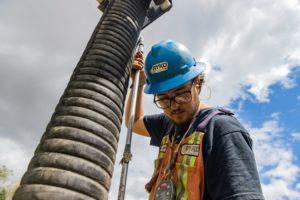 Acquisitions of Telcon Datvox and Ryko Telecommunications have led to a year of exceptional growth
WesTower is pleased to be celebrating a year since the expansion of its wireline construction and maintenance services capabilities following the acquisition of Telcon Datvox Inc. and Ryko Telecommunications Inc. at the end of 2021.
"I'm so proud of what our expanded teams have been able to accomplish this past year with the strategic additions of Ryko and Telcon Datvox as new divisions of WesTower," said Nathan Schauerte, President and CEO of WesTower Communications. "With the integration of Ryko's and Telcon Datvox's 120 highly-skilled professionals as part of WesTower's wireline construction and maintenance services, WesTower has been able to expand our project delivery for clients in Southern Ontario and Western Canada, and we're looking forward to the years ahead as we continue with the deployment and servicing of long-haul fiber networks that keep our communities connected across the country."
Wireline projects for WesTower clients during the year have included turnkey aerial and underground wireline construction, FTTx for high-speed internet to remote communities, engineering, comprehensive maintenance, and emergency repair services on wireline and utility networks in both urban and rural environments. Learn more here about WesTower's wireline services or click here for more information about joining our team.